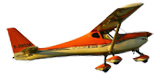 Overview
The FK9 Mark 4 Short Wing is a two-seater ultralight aircraft new generation, with a fuselage and wings made of composite material and train tricycle, particularly appreciated by flying clubs and schools for its simplicity, its flight qualities, its versatility and robustness.





Performances
A careful aerodynamic allows a high cruising speed of 190 to 210 km / h. Its flaps allow for low speed and short landings. Its low fuel consumption associated with a capacity of 60 liters offers a maximum radius of action of 950 kilometers.





Ergonomics
The cabin is easily accessible through two large doors and remote shrouds. It is particularly well soundproofed and a great comfort. The modern cockpit offers standard double-sleeves-gas pedals commands and an excellent visibility to the ground.





Security
The central part of the carrier Lattice steel provides a proven defense crash, harnesses supplemented by 4 points. The device is equipped with a parachute rescue pyrotechnic BRS. This system has proved effective for 20 years and the mark identifies more than 200 people rescued.